There are two approaches to ensuring a safe environment:
you can either do it by providing your own, secure infrastructure or
by outsourcing your IT operations to third-party vendors.
The latter endeavors to adopt an approach that helps ensure maximum security through the implementation of strict guidelines, policies, and regulatory norms.
However, choosing this option comes with certain risks like not having complete control of your resources even if they are being retained in a safe location as they can be accessed, potentially without one's knowledge or consent (data breach). Companies that fail to properly secure data face the risk of being extorted. They might also have their data stolen or be forced to host malware on their systems.
What is SOC 2?
Developed by the Auditing Standards Board of the American Institute of Certified Public Accountants (AICPA), SOC 2 (Security, Operational and Control ) Compliance report adheres to policies, applicable privacy, security standards, and controls in order to track compliance. And it applies to any service provider that stores, processes, or transmits customer or client data in the cloud.
The rules and regulations for working with third-party vendors have many points but all boils down to whether or not you are going to follow the law to ensure control activities and objectives are in place and are effectively operating.
How many types are in SOC 2 reports?
There are three types of SOC 2 reports.
SOC 2 Type 1
SOC 2 Type 2
SOC 2 type 3
What are the 5 categories of SOC 2 trust services criteria?
Whether you're an online retailer, financial institution, healthcare provider, manufacturer, or public sector organization, there are many benefits to receiving a SOC 2 compliance certification.
Following are the 5 Trust Principles of SOC 2 compliance audit process certification:
Security
Availability
Processing integrity
Confidentiality
Privacy
Understanding the expense of an audit is a crucial first step in proving to potential customers that your company is committed to maintaining high levels of security and privacy for something like 25% – 40% cheaper than what you would pay with other providers. To pursue a SOC 2 compliance certification, the first thing you have to decide is which of the five Trust Service Principles (TSP) you are going to include in the audit report for the SOC 2 assessments.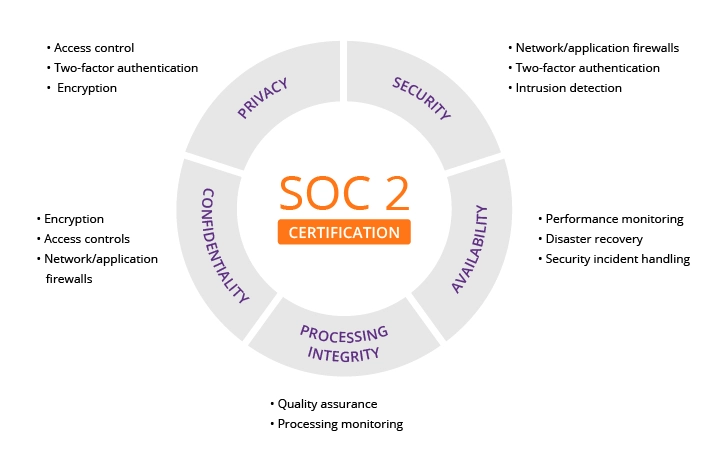 Security (also known as 'common criteria')
So, how does AICPA define 'Security'?
"Information and systems are protected against unauthorized access, unauthorized disclosure of information, and damage to systems that could compromise the availability, integrity, confidentiality, and privacy of information or systems and affect the entity's ability to achieve its objectives."

AICPA
The SOC 2 security criteria principle refers to protective measures (such as segregation of duties and limiting access to sensitive data) that help prevent potential data theft, abuse, or unauthorized removal, manipulation, and disclosure of information related to the software's system under control solutions.
With security, there are always varying levels of implementation.
IT security tools are very important for companies large and small. Firewalls help to keep out intruders; two-factor authentication helps to protect you from scams and fake emails and data thefts and destruction by using intrusion detection tools. These pieces of hardware and software are designed to stop hackers from accessing sensitive information and critical systems.
This is the only mandatory trust services category.
Availability
Confidentiality
Processing Integrity
Privacy
What is SOC2 Type 2 compliance and who needs it?

A Service Organizational Control (SOC) 2 Type 2 internal compliance report helps to ensure that if you're handling customer data, it will be handled in a way that is reliable, safeguarded, efficient, and effective in maintaining data security.
Although there is a lot of focus on data security, organizations that rely upon third-party vendors/services need to ensure that the environment and infrastructure needed for supporting vendor/customer relationships meet or exceed industry standards and regulations. Such partnerships may make for good business in the short run but can be a challenge long term.
A SOC 2 Type 2 report is a report prepared by the company's internal auditing department reflecting on how we protect our customer's data from any potential vulnerabilities that could expose customers' data to possible abuse and exploitation. This is a type of security assessment report, produced by an independent auditor for the customers and assessing how well an organization's control activities and objectives are operating.
If you are secure hosting your customers' data (let's suppose storing data in AWS – Amazon Web Services), then you have the option of being audited by a third party in order to ensure that your data is secure at all times. This can potentially give you peace of mind if your customers rely on constantly updated information and/or require sufficient privacy (depending on the nature of your product).
What are the benefits of SOC 2 Type 2 compliant?
SOC 2 compliance is crucial to any organization that handles personal data. It can be used to document, evaluate and improve the internal controls of your organization such as SaaS, finance, or healthcare companies. Passing a SOC 2 audit can benefit your business in the following 5 ways:
Soc 2 Type 2 Benefit #1: Brand Protection
If the data of your company's clients has or is likely to be compromised, they may stop using your products and thus cause total business loss. Your clients will eventually want to know what's been going on inside your firm and if they feel that you can't offer them enough security, then they might just give their money to your competitors who can offer them what their needs are and more. And this can lead in turn to the collapse of your business.
Receiving type 2 SOC 2 Certification, an organization shows it has taken all needed measures to prevent a data breach and has
Soc 2 Type 2 Benefit #2: Competitive Advantage
Having a SOC 2 compliant report puts you leaps and bound ahead of your competitors who have not gone through the process for certification. Being SOC 2 Type 2 certificate compliant can assist a business with providing customers with a competitive advantage over their peers as it shows that the enterprise's security protocol is up-to-standard.
SOC 2 certification is a mark of excellence and it has become a prerequisite for companies that want to be trusted by investors and customers alike.
Soc 2 Type 2 Benefit #3: Viable for specific business settings
Achieving Soc2 Type 2 compliance ensures businesses have a validated method for implementing and maintaining these controls by putting in place processes, procedures and checks, and balances needed to mitigate risks that could pose a threat to the system.
Soc 2 Type 2 for Banking and Financial Services
Banking and financial institutions like credit unions, banks, credit card companies, insurance companies, consumer finance companies, and stock brokerages face numerous challenges in internal controls.
Banks and insurance companies, among many other financial institutions, rely on internal controls. They must take extra care with customer data because they are in a very highly regulated industry. They must keep all customer data confidential, but at the same time be accurate with data completeness, and timeliness of transactions. One of the key benefits of implementing a SOC 2 compliance program is that it requires businesses to have an understanding of their own internal controls, providing them with a fresh perspective in terms of areas they can work on improving.
SoC 2 for Colocation data centers
Data Center Needs to be SOC 2 Type II Compliant. There can be many customers for a single data center to serve, thus making the loss of data even more devastating as it would affect a greater number of people. Datacenter SOC 2 type 2 Certifications and attestations are like a badge of honor that you get to wear proudly if you have earned this level. It confirms to customers that you are dedicated to upholding high standards of protecting their valuable data and thus allowing them to guarantee their security on your system with confidence. The certificate also serves as proof that you have the necessary tools and techniques in place for maintaining the safety of your infrastructure and data.
Soc 2 Type 2 Compliance for Software as a Service (SaaS)
SaaS providers can regain customers' trust through SOC 2 compliance. While many customers welcome cloud technology, there is still some concern surrounding security and ownership. If a SaaS provider displays SOC (Service Organization Control) 2 certification, prospective customers can be assured that the provider has undergone thorough testing to ensure compliance with industry standards for internal controls.
What is a SOC 2 Type 2 audit Report?
SOC 2 is a type of report that's officially administered by the AICPA and serves as an independent evaluation of security practices, data protection, availability, confidentiality, and privacy compliance.
The SOC 2 Type II audit conforms to the standards of a regular SOC 2 certification.
Scoping procedures
Gap analysis or readiness assessment
Attestation engagement
Report writing and delivery
What are the three types of reports are in SOC 2?
There are two types of SOC 2:
SOC 2 compliance is crucial in order to keep your third-party vendor management program up to snuff. Keep the audit process in mind, too. Not only do they make sure you have everything you need to operate within regulatory limits, but they also help build internal governance and risk management as well as provide an easy point of reference for when it comes time to make important decisions down the road, so you can avoid putting your company's reputation at risk again.
In order to maintain trust in the field of Information Technology, a Solidified audit-only certification helps highlight and protect against cyberattacks within your codebase by testing your application's security controls with a third-party auditor.
What is included in a SOC 2 Type 2 report?
What is the process of SOC 2 Type II compliance audit?
There are 4 key steps involved in a SOC 2 Type 2 audit:
Step #1: Choose an independent auditor (CPA firm)
Step #2: Plan your SOC exam
Step #3: Conduct SOC 2 Type 2 readiness assessment
Step #4: Get SOC final report
Who can Perform a SOC Audit?
SOC audits must be performed by either independent CPA's or accounting firms.